Soukromé zdravotnické zařízení
neurologie
diagnostika bolesti hlavy
posouzení typu a charakteru bolesti
individuální osobní přístup
součást Centra klinické imunologie
Centrum bolesti hlavy
Neurologická ordinace, poradna s osobním
přístupem, nezvyklým v běžných ordinacích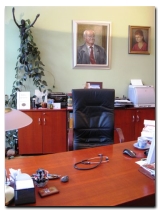 Medical clinic and consultancy
neurology
diagnostics and treatment of headache
traditional Chinese medicine, Korean system SU-JOK
treatment using natural medicine
dietary modifications
acupressure and aromatherapy
You have entered the website of Centrum bolesti hlavy (the Headache medical center), a leading consultancy for problems with headaches, established by private medical practice – Centrum klinické imunologie in Prague 1 - Old Town, Czech Republic. This medical practice has existed since 2003 and is permanently aimed at correct diagnosis and treatment of all the types of headaches. If you want to treat your body responsibly and you are not satisfied by only taking a common pill, you are in the right place.
We have contracts with all the Czech health insurance companies (e.g. VZP). Our clients with another kind of health insurance or with troubles which are not charged to the VZP are kindly asked to pay their health care costs in cash – Section "Ceník služeb".
In our medical practice it is possible to make an appointment without a recommendation from a General practitioner.
Our ordering terms are short. Moreover, you will be able to book an appointment quickly and very comfortably via our ordering form – Section "Objednejte se".
If you would like to share your question about any health problems with our experts, feel free to use our on-line counseling.
You will be welcomed by a nice, friendly and a truly family-like atmosphere. In the course of over ten years and at the same address, we have treated more than 10 000 patients. Closest parking – National theatre, shopping malls Kotva or Palladium. But we recommend the brilliant access aforded by public transport – Metro A/B – Můstek or Metro B Národní třída.
And you can be sure; you will not spend the whole day in the waiting room!
CENTRUM BOLESTI HLAVY
Havelská 14, Praha 1
110 00 Staré Město
+420 222 094 200
info@bolesthlavy.com